Light gauge steel with lightweight concrete technology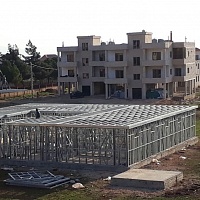 23 august
Light gauge steel frame buildings
LGS construction system
 is an advanced technology which is fast and money efficient. Basically this technology consists of LGS frame, fiber cement boards cladding on both sides and rock wool or glass wool infill. Fiber cement boards widely available from India, China, Thailand. Everything is good with such kind of material if you don't care about hollowness sound coming through walls after nocking. We created new type of infill for light gauge steel construction system. 
Lightweight aerated concrete insulation
 (gazbeton, cellular lightweight concrete, non-autoclaved lightweight aerated concrete) with 600 kg/m3 density provides good sound and thermal insulation and fire resistance. Light steel frame construction system filled with lightweight concrete insulation can be applied for commercial and residential projects, partition wall system, boundary wall and prefabricated wall panels. The system doesn't required heavy foundation. 
To find more details about this technology follow the link please
.