Light gauge steel in Bahrain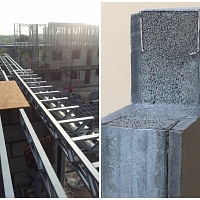 14 april
Light gauge steel in Bahrain
Light Gauge Steel (LGS) framing is made of cold-formed steel profiles which generally have C, Z and omega cross-sections for increased stiffness. LGS framing has excellent properties such as being a light, environmentally friendly, recyclable and rapid construction system. In combination with fiber cement boards cladding and non autoclaved lightweight aerated concrete insulation lgs construction system is solid and durable.
Cold formed steel, also known as light gauge steel or LGS, is deployed worldwide for structural framing, in buildings of all sizes and purposes. These include multi-story projects, meeting engineering compliance to local design and building codes and to last as long as any building erected using traditional materials.
There is a misconception by some that cold formed steel (CFS) should only be used for interior framing or non-structural building elements - but that's not the full extent of its capabilities. Far from it. CFS delivers many advantages in the construction of structural, load bearing walls as well.
Because CFS, with the help of technical software (like, FRAMECAD STRUCTURE), can be engineered and designed to be load-bearing, and because of its unique physical characteristics, CFS makes for a superior structural framing material.