Raw materials for non autoclaved lightweight aerated concrete blocks production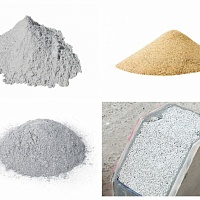 5 may
Raw materials for non autoclaved lightweight aerated concrete blocks production
To produce non autoclaved lightweight aerated concrete blocks you need to use following raw materials:water;
Water
Ordinary Portland Cement;
Filling material such as sand, limestone powder, fly ash, dolomite powder;
Hardening agent;
Caustic soda;
Aluminum powder or aluminum paste as a gas-forming agent.
Water
250-300 liters per 1 m3 of non autoclaved lightweight aerated concrete (NAAC).
Water temperature must be 40-60°С. Water heat-up provides for fast setting-up of the mix and will increase endurance of the finished product. Energy consumption for the heat-up is always compensated by higher productivity of the line.
Portland cement
260-320 kg per 1 m3 of NAAC
All kinds of OPC are applicable. Due to special features of the cement, we may change the formula as the technology allows that.
Filling material
250-300 kg per 1 m3 of NAAC
Use sand with the following properties as a filler:
small-grained;
without impurities: stones, tree branches, sand, everything over 2 mm;
without silt and clay (or with minimal content of those substances).
Sand can be substituted with:
limestone, dolomitic powder;
Fly ash;
other fine fillers.
Chemical additives
1-3 kg per 1 m3 of gazbeton
Special chemical additives increase speed of reaction for the mix. We will help you to choose the chemical agent as soon as you are ready to launch production. These additives can be easily found in any region as they are using even in food industry.
Gas-forming agents
0,5-0,7 kg per 1 m3 of gas concrete
Aluminum powder PAP-1 and PAP-2. It is intended for gas concrete production and is known as "silver powder". A supplier will be easily found in the local or neighboring region and the first batch to launch the production can be obtained directly from our technologist.
Grease for molds
This component is not an ingredient but it improves the properties of gas concrete, namely , its color.
0,3-0,5 liter per1 m3 of gas concrete.
The following options are used as grease:
emulsifier for greasing molds at production of reinforced concrete structures;
waste motor oil of the petrol engine (diesel oil leaves a lot of soot);
vegetable oil or its production residue.